I'm very happy to be featured in this months German Rolling Stone Magazine! 
At the beginning of January I sat down with Jörg Feyer for a nice virtual interview. We discussed my reasons for moving to Europe a decade ago, my musical journey since then, the rise of online streaming and of course my soon to be released album 'Allen Keys & Broken Bits'. 
Get yourself a copy at your local magazine dealer! 
English Translation below:
Rolling Stone by Jörg Feyer 
RESPECT! 
You don't really want to hear the word after the federal election campaign. But Jaimi Faulkner puts it in his mouth again in an uninhibited manner to explain why he ended up in these latitudes a good decade ago. 
'I immediately noticed the respect that is shown to a singer-songwriter here,' says the man from Melbourne. After working in Berlin and Bremen, the Australian has been living in Düsseldorf for almost five years. Before that, he had played everything that could be played Down Under, and as his country's representative in the Memphis Blues Challenge, he also sniffed the deep south of the USA, 'a real turning point' because it was the birthplace of the music that shaped him. 
But in the end it's just like in Australia, where 'music often only plays a supporting role, somewhere in the corner, under a flat screen. This is where people really come to listen to music. This attention attracted me' 
Faulkner calls his new album 'Allen Keys & Broken Bits' a 'heart on your sleeve kind of record.' And to start, his song 'Catch me If you can' immediately brings up the big question about the hereafter. 'For me the song already captures the whole record, also because musically it strikes different tones. Vocal harmonies have always been important to me, but I've never had a gospel choir.' Of course, this pairs well with topics like mortality and metaphysics, which above all were triggered after the birth of his three-year-old daughter, Elodie. 
'I didn't want to hide behind metaphors like I used to. At almost forty, I feel like I can write about certain things because there's more weight to it now.' At the same time, he manages to not let important things sound pretentious. And when songs like 'This Masquerade' need no more than his guitar and a mic, he no longer hides behind his band - 'one take, no overdubs' either. 
Respect that really pays off is a foreign word for Spotify, too. With 'Early Morning Coffee Cups' (approx. 20 million streams since 2017), Faulkner is one of these one-hit wonders, which are fobbed off with around a thousand euros for around one million streams. Of course, says Faulkner, he is also grateful 'that a song generated income. The only difficult thing is that none of my other repetoir got any attention. 'I've just ended up in a lot of coffee shop playlists because of the piece, but my other repertoire doesn't find a home.' Later, 'Early Morning Coffee Cups' led to a cooperation with a local roaster in Ratingen. The 'Morning Roast' Blend sold out quickly, but 'it's more fun than it's really a revenue stream.' 
Faulkner has more fun with another streaming model with a paradoxical result. With his 'Sofa Sessions' he managed to establish closer contact with fans at a time of great distance. "I really didn't expect that when I started this livestreaming," he sums up. 'I'm fortunate to have a good home studio and wanted to make streaming as interactive as possible.' The streaming has stregthend the connection between Faulkner and his fans. Questions are asked and answered in the chat and a conversation often develops. In a concert situation, it's rather rare that someone yells a question towards the stage and expects an answer. (Laughs) Of course, something can happen but I'm usually just playing and making a little small talk after the show. With the streams, a communication develops that doesn't just take place once or twice a year, but often weekly'. 
A few nice real concerts, as booked for March, would obviously not be bad. And what does Jaimi Faulkner really miss when he thinks about Australia again? Those 'iconic landscapes,' the beach, the desert. 'The smell of that red earth there is really deep inside me.' With all due respect.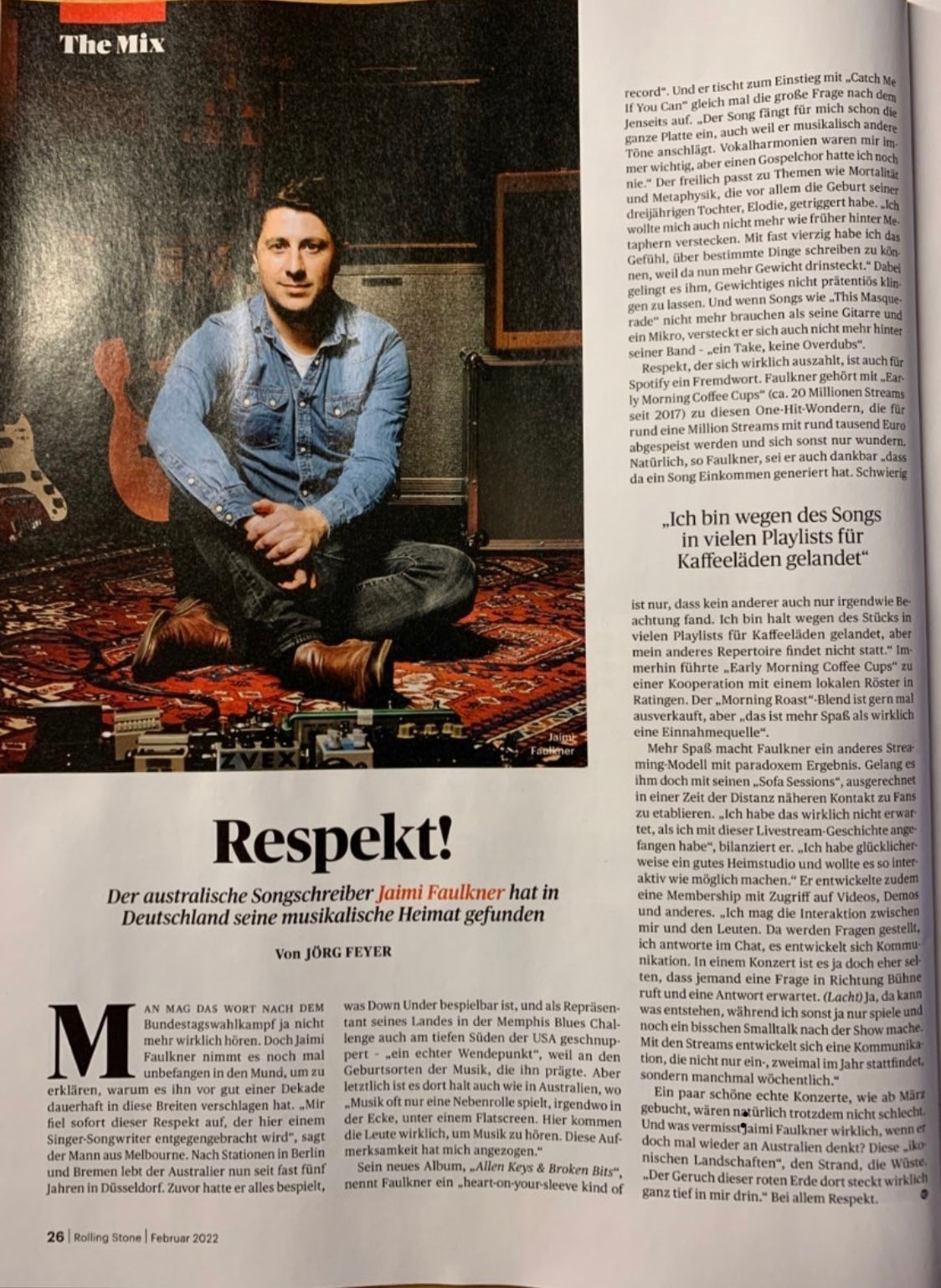 Photo: Diego Mariella